Olympic Natural Resources Center
Study Synopsis
The T3 Watershed Experiment is a 20,000-acre study examining potential new, innovative approaches to managing forests in the Olympic Experimental State Forest (OESF), managed by Washington Department of Natural Resources (WADNR) .  The study will take place in 16 watersheds on the outer Olympic Peninsula in Jefferson County.  Most study watersheds are in the Clearwater River drainage but three drain to the Hoh River and four are close to the coast near Kalaloch.  This study was initiated by the University of Washington (Olympic Natural Resources Center) and the WADNR (Forest Resources Division, Olympic Experimental State Forest, and Olympic Region).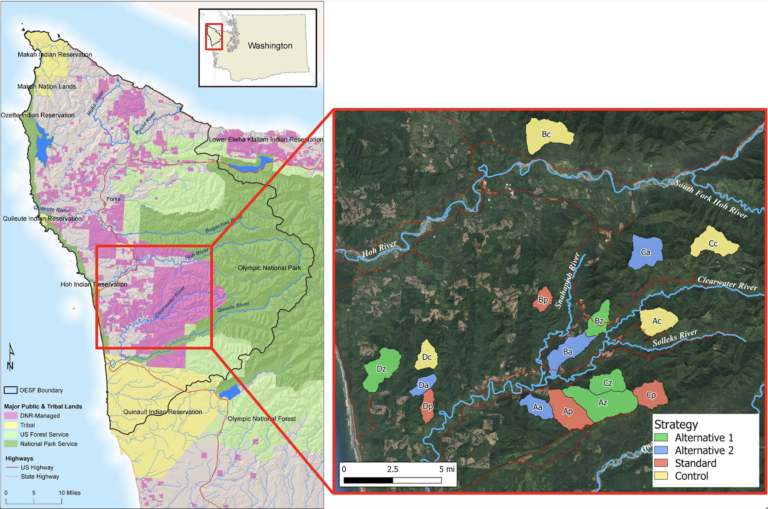 By collecting and examining evidence of the effectiveness of different approaches to forest management, decision-makers, scientists, and stakeholders can learn about options that will determine the sustainability of these critical ecosystems. The goal of the study is to examine how sustainable ecosystems can consider both the wellbeing of the forest environment and the wellbeing of human communities.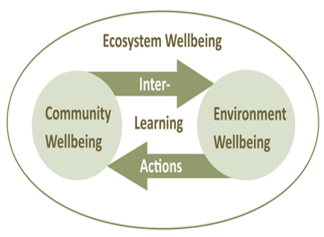 This study will take place in watersheds on state trust lands (Common School Trust), where there is a legal requirement to focus on sustainably producing revenue in an environmentally responsible manner.  This area is also part of the Olympic Experimental State Forest which provides flexibility to learn and improve management through time. The OESF is managed under a 1997 Habitat Conservation Plan with the added objective of learning.  These state lands also provide important ecosystem services to all state residents. In addition, they are also ceded lands, and Peninsula tribes have specific treaty rights for access and use.  The study goals focus on simultaneously providing three kinds of possible benefits to trusts:
High (but not necessarily maximum) net revenue within habitat conservation plan sidebars;
Science-based learning focused on trust management issues; and
Increased public and tribal support for management of trust lands.
This study is applying science-based adaptive management at watershed and operational scales (forest management units of about 30 acres or larger), rather than smaller research scales.  This larger scale is needed so that economic, social, and environmental factors and responses can be extrapolated across the OESF and beyond, and to increase the potential for innovations to be adopted by managers.  The watershed scale of the study accounts for landscape complexity—each watershed was chosen to include key landscape elements such as stands where harvesting is economically feasible and areas left un-entered (85% in first decade), including less-accessible, younger, older, riparian forest or with unstable ground. The proportion of the watershed designated for initial harvest during the next decade is based on the current sustainable harvest calculation for the OESF.  The experimental watersheds are large enough to contain fish populations in lower reaches where whole-system responses can be directly monitored (for example fish, fish foodchains, sediment, and water chemistry).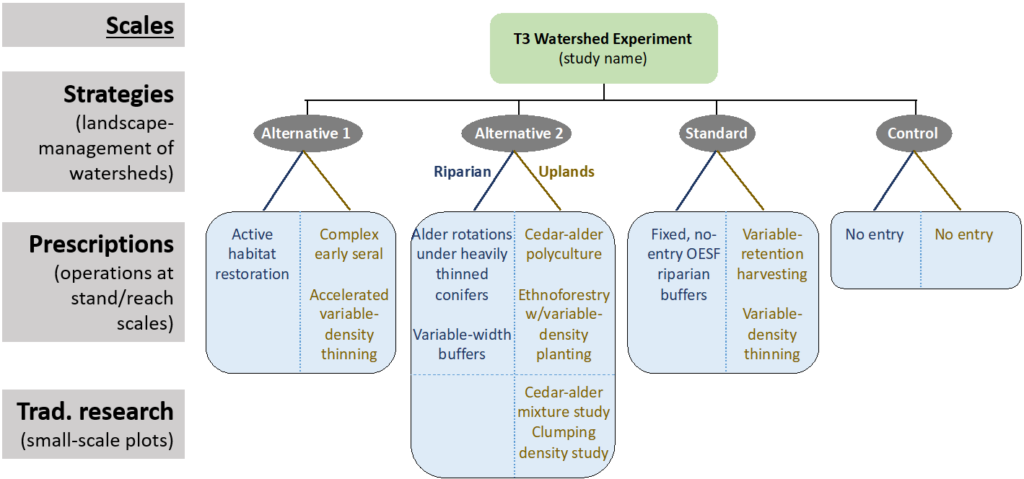 Three management strategies and a "no-management control" will be compared across the 16 experimental watersheds. The strategies were designed to facilitate a broad enough range of innovations along with current and control standards.   Ten upland and riparian prescriptions will be applied (note that Current VDT will not be applied because of both limited space and presence of areas in the watersheds were recently treated this way).  The design of prescriptions is being led by groups of principal investigators (researchers and managers) and will undergo scientific peer review.
This study began in 2016 and is planned to continue for at least a decade with the treatments being implemented through WADNR timber harvest program
2016: early planning and conversations with managers and stakeholders
2017: collaboration among scientists across institutions
2018: designation of experimental watersheds by WADNR
2019: Washington State Legislature committed funding
2020-2021: pre-harvest monitoring
2021-2023: Planned timber harvest 
2022-2028:  Post-harvest monitoring
How to participate
The T3 Watershed Experiment has been successful thanks to the engagement of stakeholders, tribes, and community members who have given their input and feedback throughout the entire study design process. Using a learning-based collaboration framework developed by the UW Washington Rural Ecosystem Sustainability Team, researchers have used interviews, focus groups, workshops, and field tours to gain insight that has shaped the treatments, research questions, and monitoring efforts. At this stage of the T3 experiment, we are finalizing study plans and working towards implementation. Depending on interest, stakeholders could: 
Join a learning group to continue to work on certain elements of the study
Participate in an information session to learn about the study designs
Assist with design and implementation of monitoring
Participate directly in data collection and scientific analyses
If you are interested in participating in any of these ways, you can contact the project team at T3team@uw.edu to be added to our mailing list for updates.
For additional information on the study, including study plans and other documents, please look below.
Below are several T3 Study documents and plans including:
1.)

T3 Study Proposal

that outlines the original concept 
2.) An

overview plan

that ties all of the elements of the study into the broader context of ecosystem sustainability
7.) Study Factsheets that includes details on each prescription, the social science study, and learning groups.
8.) A sub-study plan created by the Cedar Browse Learning Group to investigate methods of preventing mortality of cedar due to ungulate browse.
Recent Presentations
Teodora Minkova, a T3 researcher and principal investigator, presented on the T3 Experiment at Western Washington University's Environmental Speaker Series. Listen to her talk here!
T3 researcher Lauren Kuehne and her colleagues recently spoke with Bird Note on their work with the Sustainability in Prisons Project. The project works and collaborates with folks who are incarcerated on a wide range of work connected to sustainability. The T3 experiment partnered with this program to teach incarcerated people how to  process bird call data. Listen to the full, two-part story here.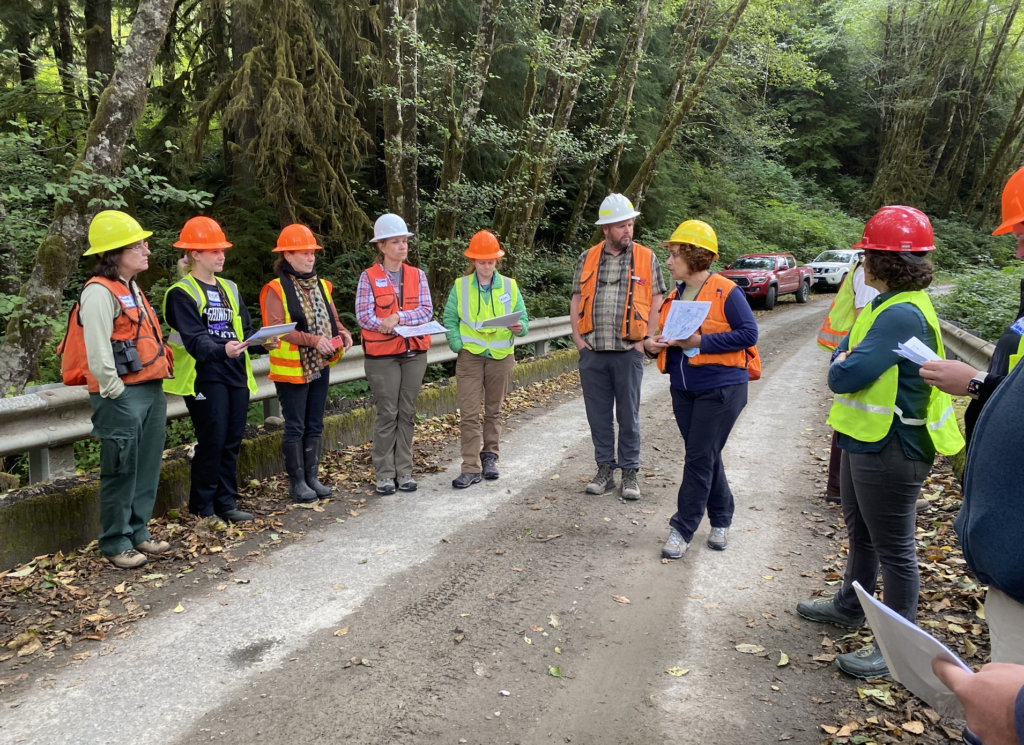 There are a variety of affiliated studies that stand by themselves but support the T3 effort in important ways and are driven by over $400k in grant funding.  Read more about DNR's research and monitoring projects.